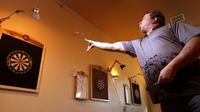 I am Rob Soik from the above article; I am a competitive dart player and love to play against the best in the game. The Wyoming State Tournament put on by the AMOW had over 600 players from all around Wyoming and it was my pleasure to play the best from this great state. In level 1 (the top level in these events) Singles 501 was won by my friend, Stacey Ortega, against Gillette's Paul Morrison and I won the Singles Cricket against Paul Morrison. In the dream team event, our team took second place, same as last year. Dustin Bitzenhofer is a young and upcoming player, and has been getting better and better with each tournament.
I have been playing for twenty+ years and am looking forward to improving my game to compete with the professionals that I have to play against in "Dartslive: The World" tournaments and the many ADO Sanctioned tournaments around the US.
Darts is definitely a competitive sport that starts and ends with a handshake.
It is a sport that anyone can play and enjoy at any age or ability. These tournaments are unique; the players of all abilities and competitiveness are brought together in one place and can mingle and cheer each other on.
Several leagues around the state offer a competitive and fun environment for both steel and soft-tip darts. We are an extended family and would love for you to join us. More information on leagues and other events listed on my website
www.wyomingdarts.com
.