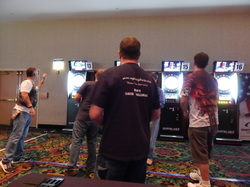 WooHoo!

What a weekend! Time to drop some names!

Justin Case and I teamed up to play in the Dartslive "USA Open" and "The World" Tournaments.

Friday, I practiced shoot out with John Kirchoefer. That night Justin and I played in The Open class 701 - split bull, masters out. Our first match was against Paul Lim and Scott Kirchner, WOW! Funny thing happened as Scott Kirchner was getting ready to hit a 180 out against us in the final leg, we were told that there was a problem with the draw and that this match didn't count. (He did hit the 180 to end the game.) So, we waiting for a while, got our redraw and it was against two awesome players from Washington.

Saturday, I started off warming up with Danny Delfino. Then we played singles in "The World" event. I played Canadian women's champ Trish Greznik, I lost, 3 to 1. (From now on "throw like a girl" has a whole new meaning.) Justin played Ben "the Jett" Dersch.

Saturday night was cricket doubles, we made it into the second round and lost to French champions Cyril Blot and F. Guillermont. Had some great conversations with Canadian Champion Ken MacNeil, and the first pro that I played in the Las Vegas Open way back in the 90's, Dave Kelly. (By the way, Dave, you look like you haven't aged a day!)

Sunday morning was 701(SB/MO)/cricket Medley. Again, second round, we fought valiantly against Jeremiah Millar, and Eric "FINISH HIM" Blackledge.

Maybe next year we will make it past second round and players will be name dropping us!

Zoiks!