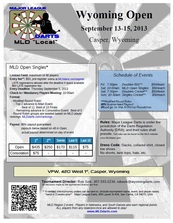 On September 13th we will be having Wyoming's second MLD Tournament. Last year was awesome! The money leaders from last years event are:
Davo Mahaffey $295.00
Bobby Heide $275.00
Bob Meininger $175.00
B.J. Minne $170.00
Rob Soik $155.00
Michelle Harney $145.00
Todd Thiesse $140.00
John Moynihan $105.00
Sam Knight $90.00
Toby Dressler $70.00
Damon Uleburg $60.00
Congratulations to all from last year! Good luck to all that will be here next weekend!
Rob Soik

Last year we raised over $150 for the Arthritis Foundation!